Revenue-neutral CO2 tax vs. bans
Bans instead of free market economy. Restrictions and coercion instead of effective CO2 reduction. All of this can also be summed up in a single word: Misanthropy.




Unleashing an avalanche of investment - triggering an economic boom



That was the title of my parliamentary citizens' initiative in 2016. At that time, it was about €200 per ton of CO2 tax, but all revenues from this tax were to be used to reduce social security contributions. Here to the newsletter 2019-04-14: How to explain a CO2 tax?

All the creativity of the free market economy to make consumers good offers to escape from the CO2 tax. This method is worthy of a free democracy, but my parliamentary citizens' initiative failed because of the boycott of all so-called "environmental groups" and "climate groups". The reason for the boycott can be seen in all clarity today: prohibitions instead of free market economy. Restrictions and coercion instead of effective CO2 reduction. Bullying people instead of a high standard of living without CO2 emissions. All this can be summarized in one single word: Misanthropy.

Let's compare the two scenarios for house renovation and heat pumps. There is a potential customer who has a house with oil heating with 2,000 liters of heating oil consumption per year. Thanks to a €200 per ton CO2 tax across the entire supply chain, this now costs €3,200 per year instead of €2,000. Now it's a matter of making an offer so that this potential customer becomes a real customer.

It's clear that loan repayments and operating costs have to be less than €3,200 per year. The provider has to make a real effort to ensure that his offer is accepted by the customer. There the customer is king. The CO2 tax causes 2 things: The offerer does not compete against 2,000 €, but against 3,200 € annual costs and the customer has more money, because the tax incomes from the CO2 tax reduced its social security contributions.

The coercive scenario is completely different: The provider makes the customer an offer that the customer cannot refuse because there is a €50,000 penalty. Why bother? Why optimize costs? Completely unnecessary if customers simply fly into your mouth like roasted pigeons in the land of milk and honey.



Article in Energy:Construction



Energie:Bau reported in detail on my presentation to the Upper Austrian Conference of Mayors. Go to the article.



New record on the spot market: MINUS 50 cents/kWh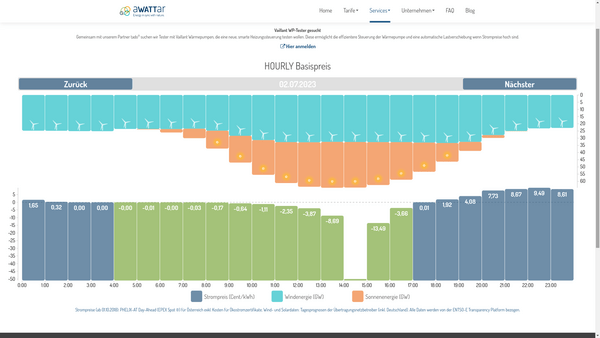 What happens to the spot market price on a sunny, windy Sunday? The previous record was -20 cents kWh. This record is surpassed today from 14:00 to 15:00 with -50 cents. When I was going to post this on Facebook, I realized that I'm not the only one watching spot market prices: there were already postings about it in all the relevant groups.

Why has the energy transition actually forgotten about rechargeable batteries? Because Germany's energy transition is negatively cost-optimized. No trustworthy institution was commissioned to design a cost-optimized energy transition. But the industry has thought about what could be sold. Building a power line to Norway? Sure, Germany has an industry that can deliver that. Batteries for day/night balancing of solar power? Of course not, Germany doesn't have a battery industry that could supply that.



Volkswagen curbs electric car production



This message went through the mass media. But it did not say why. Let's compare the Tesla Y RWD with the cheapest VW ID 4.
44,890 € at 50,800 €
220 kW to 128 kW engine power
217 km/h to 160 km/h top speed
1,600 kg to 1,000 kg trailer load
2,158 to 1,575 liters of trunk space with seat folded down
State-of-the-art software to acts like a cell phone from 2003.
If the ID.4 were 6,000 cheaper instead of more expensive than the Tesla Y RWD, then you could think about it when deciding to buy. Why should you pay more money for a significantly inferior car?



Today 17 hours no feed possible



There are providers like Spottyenergie.at where you can buy and sell electricity at the day-ahead spot market price. There is however a service fee, which comes with the purchase on top and is deducted with the sales. Thus, today there are 17 hours when you can not sell electricity. This phenomenon currently occurs on weekends and holidays. But in 2024 Germany will have 80 GW of photovoltaics and in 2025 90 GW. Negative prices will also occur on working days.

There is no discussion whatsoever in Germany about reforming this madness. You'll probably be called a right-wing radical if you say, "The sun doesn't shine at night.



The difference between association member and shareholder



A club member donates his membership fee to the club and is happy if the club is successful. If not, I have supported a good cause.

A shareholder acquires shares in a stock corporation. If the AG is successful, his shares are worth much more. In the case of GEMINI next Generation AG, his reward for supporting a good cause.

As a shareholder, employee or homebuyer, you will also become part of the countermovement against many negative developments in our society that are detrimental to our survival.

A new shareholder said "I with my very modest investment", but 4,000 times 1,000 € is also 4 million for all investments until the opening of the settlement in Unken as a starting point for worldwide expansion.

Only the Annual General Meeting can resolve the major capital increases, but here is what the Executive Board and Supervisory Board can resolve. The new capital stock is used to perfect the documents for the larger planned capital increases.

Here are the details.